Meet Our Soloist Amy Zanrosso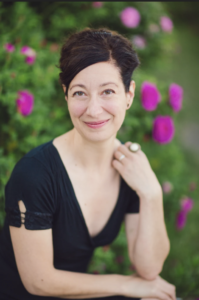 Amy Zanrosso's playing has been hailed as expressive, magnetic and masterful but since no one at the New York Times has said this, she's not allowed to put it in quotes. Her first touch of a keyboard was a two-octave electric organ that her parents had found who knows where. She enjoyed picking out tunes like O Sole Mio and Ode To Joy until her cousin decided to show her Heart and Soul on an acoustic piano. That's the moment Amy fell in love. Thanks to her attentive and industrious Italian immigrant mom, piano lessons started at the age of 6 and by the age of 15, Amy had made the decision to make music her life. A few years later she was accepted into the University of Victoria in British Columbia, Canada where, in Bruce Vogt's studio, she realized that she had way too much to learn and would always be in awe of the absolute force that is music. Bruce's wisdom and humor still influences her life today and she will always be thankful for his guidance in those early years of learning what playing the piano really meant.
As a soloist, Amy is addicted to the thrill of performing with orchestra. Since 2016, concerto repertoire, similar to chamber music but on steroids, has forced her to push her limits, helping make her into the confident and electrifying player she always hoped to be. She has appeared twice as a soloist with the Symphony of the Kootenays, multiple times with the Russian Chamber Orchestra and in April, 2022, she'll be performing for the first time with the Contra Costa Chamber Orchestra. Her intense love of chamber music has led her to more fully admire and explore her favorite composers while sharing the experience with countless inspiring, dedicated players and appreciative audiences. In addition to freelancing in the Bay Area with various musicians and ensembles, the RossoRose Duo, founded in 2015, keeps Amy and violinist Alisa Rose occupied learning and performing repertoire from Beethoven to Auerbach.
After her Bachelor's, Amy furthered her studies for a few years in Italy and then completed a Master's Degree at McGill University in Montreal. Her life filled with a wealth of chamber music and was rounded out by some Broadway musicals, German cabaret and a number of years in an Argentine tango quintet. In 2014, Amy moved from Montreal to the Bay Area with her partner Dave and her dog Roscoe. She is currently based in Oakland. Since the big move, Amy went on tour to China with the GRAMMY award-winning Pacific Boychoir, rehearsed Beethoven's 9th  Symphony with Gustavo Dudamel at the podium and was the pianist for Chorissima, the five-time GRAMMY award winning San Francisco Girls Chorus Premier Ensemble throughout the 2017–18 season.
Like performing, Amy finds teaching to be a highly rewarding part of a musician's life. She is a faculty member and chamber music coach at the Pre-College Academy of the San Francisco Conservatory of Music as well as at The Nueva School in Hillsborough, CA. She is constantly fueled by her fantastically inspiring students and enjoys forcing her favorite composers on them as well as telling them what to do. Amy is looking forward to all the superb music, musicians, students and enthusiastic audiences that will come her way in the future. Many thanks to Beethoven and Brahms for inspiring her to come this far – she wouldn't change a thing. For more information, please visit www.amyzanrosso.com.