Meet CCCO's New Music Director, Geoffrey Gallegos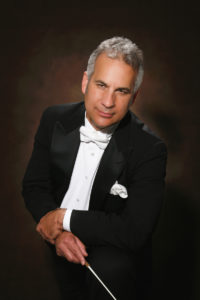 Geoffrey Gallegos, a San Francisco native and sixth generation Californian has been a fixture in the San Francisco Bay Area music community for over 30 years. From 1985 to 1990, Maestro Gallegos served as Associate Conductor of the San Francisco Chamber Players Orchestra. In 1991 he was appointed Principal Conductor of the San Francisco Concerto Orchestra and continued in that capacity until 1993. He resumed his association with the SFCO from 2000 – '06 as Principal Guest Conductor. In 2003, he was engaged as Assistant Conductor of the Peninsula Symphony Orchestra (N. CA) and served in that position until 2008. It was also in 2003 that Maestro Gallegos made his debut with Golden Gate Opera in San Francisco conducting I Pagliacci and was subsequently invited to become Music Director and Principal Conductor. During this tenure he conducted the majority of GGO productions including Gianni Schicchi, The Telephone, Madama Butterfly, Carmen, Suor Angelica, Hansel and Gretel and the world premiere production of Lincoln & Booth. In 2004, following an extensive search, Maestro Gallegos was invited to become Music Director and Conductor of the Kensington (CA) Symphony Orchestra, only the third in the Orchestra's 44 year history, a position he holds currently. In 2015, following a year long search, Maestro Gallegos was engaged to become Music Director and Conductor of West County Winds, a symphonic wind and percussion ensemble in residence at Contra Costa Community College and serving West Contra Costa County.  He was invited to guest conduct the opening of the 49th season of the Diablo Symphony Orchestra (CA) and has also guest conducted numerous ensembles throughout the Bay Area, US and in Europe.
Maestro Gallegos has a deep commitment to music education. In 2001, he was appointed Music Director and Conductor of the Golden Gate Philharmonic, an all-city string youth orchestra in San Francisco that offers an integrated program of orchestral and chamber music performance as well as music theory. More recently, he has assumed the new titles of Artistic Director and Principal Conductor and Acting Executive Director of the GGP. From 2001-2010, he also participated in the Artist in Residence program at the Ruth Asawa San Francisco School of the Arts (S.O.T.A.) where he served as guest conductor of the orchestra and wind ensembles, and taught music theory and sight singing. During the 2000-01 academic year, Maestro Gallegos was appointed Conductor of the San Francisco State University Symphonic Wind Ensemble. In the summer of 2002 he was invited as a Guest Conductor of the Orchestra at Cazadero Music Camp and was reengaged for the 2004 summer session. From 2007-2010, Maestro Gallegos served as Instrumental Music Coordinator and Liaison at The Nueva School in Hillsborough where, among many duties, he oversaw the prestigious Menuhin/Dowling instrumental music program and organized and managed the Menuhin/Dowling Competition for Young Musicians. Maestro Gallegos has served as an adjudicator for numerous youth competitions, masterclasses and workshops throughout the Bay Area, and was invited to participate as a jury member for the 2014 annual Parade of Orchestras Festival held in Honolulu.
Maestro Gallegos studied at the San Francisco Conservatory of Music Preparatory School and San Francisco State University, completing, with honors, a Bachelor of Music degree in Instrumental Education and Conducting.  Advanced studies in orchestral and operatic conducting continued at the University of Iowa School of Music, where he received a Master of Arts degree with High Distinction and served as Conductor of the University Chamber Orchestra.  Four times he was awarded fellowships, chosen from a large international pool of applicants, to the prestigious Conductors Institute held at West Virginia University and the University of South Carolina. In 1991, Maestro Gallegos was nominated for the Annual Conductor's Guild Thelma A. Robinson award. Since 2005, he has been a member of the Board of Directors of the Community Music Center in San Francisco where he began his music lessons on the trumpet at the age of nine.  He currently resides in San Francisco with his wife Julie.